Afraid of the dark? Afraid of what lives in the ocean? Put them together for a spooky and mysterious visit to the undersea world in the dark of night! Join us on a night dive to see the strange and eerie creatures that only come out at night!

The program begins with two children from the audience who demonstrate the high-tech Aqua Lung® SCUBA equipment we use to explore the dark underwater world of the Caribbean Sea, including our awesome underwater scooters!
After the demonstrations, undersea explorers, Wayne and Karen Brown, then take your patrons on a creepy and fishy visit to the dark world of the Caribbean Sea at night via a fascinating high-definition, digital multi-image presentation.
Our expedition begins on the island of Grand Cayman, in the Caribbean Sea. Your young patrons join us onboard our expedition boat as we prepare for our exploration into the dark waters of the Caribbean Sea. Using their imaginations, and our beautiful underw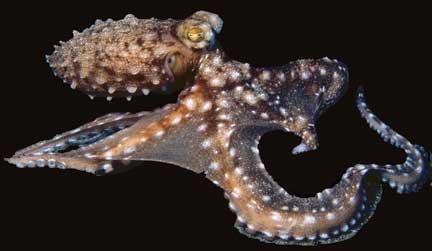 ater photography, your patrons jump in the water and find out what it would be like to accompany the Browns on their spooky night scuba dive. Your patrons follow the Browns as they discover what the beams of our underwater flashlight reveal. They see that some fish are sleeping, while other fish ("the night shift") are out looking for food. Other creatures are lurking in the darkness around us besides fish...Crabs and lobsters that were hiding during the day are now out roaming the reef. Squid that were wary of us during the day are now so close to us we can tickle their bellies! Even the coral reefs are active at night! The tiny coral polyps that are the reef builders, sleep during the day, but come out of their skeletons at night to feed. The nighttime symbiotic relationships between different creatures are revealed. They learn how fishes protect themselves from predators and how some fishes search for food. Near the end of our dive we come face-to-face with some of the so-called "dangerous" marine animals such as stingrays, moray eels, and sharks!