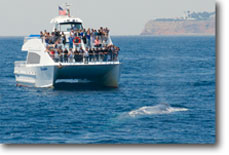 December 2016 & January 2017: Wayne & Karen will be naturalists onboard whale watching cruises for the Aquarium of the Pacific and Harbor Breeze Cruises in Long Beach, CA.
In the December and January whales that can be spotted off the coast of Southern California include Gray Whales, Fin Whales, Humpback Whales and Sperm Whales. Dolphins that may be spotted include: Common Dolphins, Bottlenose Dolphins, Pacific White-sided Dolphins, Risso's Dolphins and Killer Whales.
---
Summer 2017
Onboard Marine Biologists in the Caribbean Sea and Pacific Ocean onboard Small Expedition Cruise Ship -
MS Safari Voyager
American small ship expedition cruise company, UnCruise Adventures, is having Wayne & Karen as guest lecturers/visiting marine biologists on their marine biology themed cruise: Unveiled Wonders: Costa Rica & Panama Canal. This exciting adventure will be taking guests to explore the nature above and below the water in the Central American tropical destinations of Costa Rica and Panama.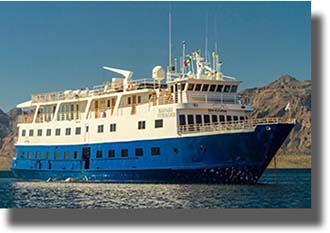 MS Safari Voyager:
MS Safari Voyager is a small,174 foot, 62 passenger, expedition cruise ship with a fleet of inflatable ZodiacŪ boats onboard for expedition landing on remote beaches and exploring wild places out-of-reach by typical cruise ships.