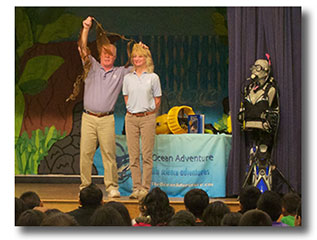 In this program we use the book,
Island of the Blue Dolphins
, as a way to introduce the giant kelp forest ecosystem around the California Channel Islands. The program begins with a demonstration of the high-tech Aqua Lung® SCUBA diving equipment we will need to use to explore the giant kelp forest around the
"Island of the Blue Dolphins"
-- San Nicholas Island. Students are chosen from the audience to put on the actual SCUBA equipment used on our expedition. After seeing how we adapt ourselves to visit the underwater environment we look at the key part of the ecosystem that we will be visiting -- giant kelp. During this demonstration, a specially constructed giant kelp plant is used to compare and constrast kelp plants to typical land plants.
After the demonstrations, undersea explorers, Wayne and Karen Brown, then take your students on an exciting tour of the Island of the Blue Dolphins' giant kelp forests via an exciting and fast-paced, high-definition, digital multi-image presentation.
After the multi-image presentation, your students are shown surprising examples of some of their favorite foods that contain giant kelp. As time allows, at the end of the presentation a brief time is set aside for a questions and answers.